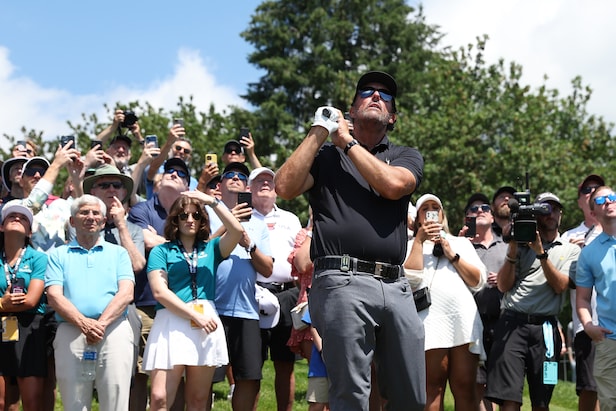 An insight into how money works at LIV Golf | Golf news and tour information
NORTH PLAINS, Ore. – LIV Golf is about many things: disruption, sportswashing, revenge (in the case of frontman Greg Norman) and, um, golf. But most of all it's about cash. As with many other issues surrounding this Upstart tour, the details surrounding the money are shadowy. To be more specific, the Fire Pit Collective spoke to four agents representing LIV golfers; They were granted anonymity to facilitate candor.
"What you have to understand about professional golfers is that they're all whores," says Agent A. "That's the starting point."
Sparked by a recent Brandel Chamblee tweet in which he said the prize money will go towards signing bonuses, this week there was a discussion about how the money will be distributed on the LIV tour. The lower-wattage players in Pumpkin Ridge's field will have to kill what they eat, which is guaranteed to mean nothing but the $120,000 prize for last place in the 48-man field. The more established players who have jumped to LIV from the PGA and European tours have received guaranteed money which, contrary to Chamblee's tweet, is in addition to what the player is claiming from the tournament purses, which this week is $20 million plus an additional $5 million is the concurrent team competition. "The prize fund is the prize fund," says Pat Perez, who is making his LIV debut this week. "Whatever you win, you get to keep. That's why the guys take it seriously."
As with team sports, LIV's guaranteed money varies from player to player based on age, star power, current form and expected performance. "Every deal is different," says Ian Poulter. "There wasn't much talk about the money [among players] because that's personal." Some of the numbers that came out in media reports were fantastic: $200 million for Phil Mickelson, $150 million for Dustin Johnson, $100 million for Bryson DeChambeau. "You have to be careful with that," says Agent B. "Who benefits from inflating these numbers? LIV of course because they are trying to generate buzz and recruit more players. But it also benefits agents who are trying to sign new players or get other clients to take the plunge."
Although subject to negotiation, the standard agreement in professional golf is that players keep any money they win on the course, but agents pay 20 percent of appearance fees and endorsement deals. LIV's upfront payment is treated like the latter, and as a result player representatives get a bold cut. (Because there is no curtailment at the events and players are guaranteed a check, some agencies take a commission on the first $120,000 of a player's winnings and treat it as a de facto entry fee.) An experienced caddy for a top player , who has remained loyal to The PGA Tour, says in a text message, "I honestly think one of the backstories on this LIV thing is agents desperate for the biggest payday of their lives."
A key player in building LIV Golf is GSE Worldwide, a New York-based team representing seven players who made the leap: DeChambeau, Sergio Garcia, Louis Oosthuizen, Brendan Grace, Abraham Ancer, Carlos Ortiz and Eugenio Chacarra ( who just turned pro). Norman told me on Thursday, "We still have some big announcements ahead of us." Speculation has turned to another GSE customer, Sam Burns. (Andrew Witlieb, the company's head of golf, did not respond to a request for comment on this story.) GSE's aggressive business model fits well with LIV's desperate need to sign players. "We call it pushing paper," says Agent A. "These guys buy customers. You walk in and you say, 'We guarantee you X million dollars in income if you sign with us.' That means if [GSE doesn't] Land some big deals, get your ass in your hands." But Agent C totally dismisses the notion that he or one of his colleagues steered their players to LIV, despite the risk of being banned from their home tour to mention the setback associated with funding LIV from Saudi Arabia. "Our job is to present all options to the player, but they always make the final decision," says Agent C. "If you're pushing a player to do something that isn't in their long-term best interests, you won't." been in this business for a very long time."
In this era of bloated wallets, how do players take care of the rest of their "team"? Most LIV player caddies and swing coaches get the same percentages as they always do, meaning 10 percent of a win this week is worth a cool $400,000 to the looper. "I've heard a bit of grumbling from the players," says Agent D, "but there's been so much talk about player greed that I think they're now sensitive to not squeezing anyone. I expect some percentages to be adjusted at the end of this season."
Perez has no such plans. "The whole thing about it is I'm trying to take care of my family," he says. "And h [caddie Michael Hartford] is family. claude [swing coach Claude Harmon] is family. So I'll still take care of these guys like we normally do." Each LIV player will receive four airline tickets per tournament: one first class, one premium economy, and two economy. He also gets four rooms in a luxury hotel. Caddies, who used to have to pay for their own journeys, now drive for free. With no cut, they're also guaranteed a check every time, and the 54-hole events reduce the wear and tear on their aching joints. "I've had calls from more than a dozen caddies dying for a bag," says Agent D.
Perez has signed with LIV on a four-year deal, which will take him to age 50 when he qualifies for PGA Tour Champions … if the Gulf's warring bureaucracies ever make peace. Like other players with a relatively modest upfront payment, he received his loot in one piece. "Mine is in there," he says. "I have everything. It's bloody incredible." According to Agent C, the high eight- and nine-figure contracts are paid in annual installments over the three-, four-, and five-year contracts. Any player with a long-term LIV contract is forced to play every event on the schedule, even as it potentially expands from eight tournaments this year to 14 in the coming years. There are clawback provisions in place if a player misses a significant amount of time due to injury. Interestingly, there is also a "moral clause" that allows LIV to cancel a contract and get the prepayment back. This covers cases of on-pitch cheating and legal issues, and particular attention has been paid to dealing with or influencing players. "With so many players getting guaranteed money," says Agent C, "there is concern that a player may be more tempted to do something during competitive rounds that may not mean as much to them. Where there is money, there is always corruption. That's the way people are."
The way LIV has rapidly reshaped the landscape of professional golf has led to many reflections on human nature. On Thursday, a few miles from Pumpkin Ridge, a dozen 9/11 families attended a protest against LIV's ties to Saudi Arabia, the birthplace of 15 of the 19 9/11 hijackers. As fans, reporters, political commentators and some professional golfers grapple with these larger geopolitical issues, business on the LIV tour is booming. Agent A says, "I just spoke to the guy who does all the business for LIV and he told me he's drinking out of a fire hose right now. He's being bombed by agents. I think there was some initial apprehension about how this whole thing was going to play out, so a lot of people stood on the sidelines and watched. Now the gold rush begins."