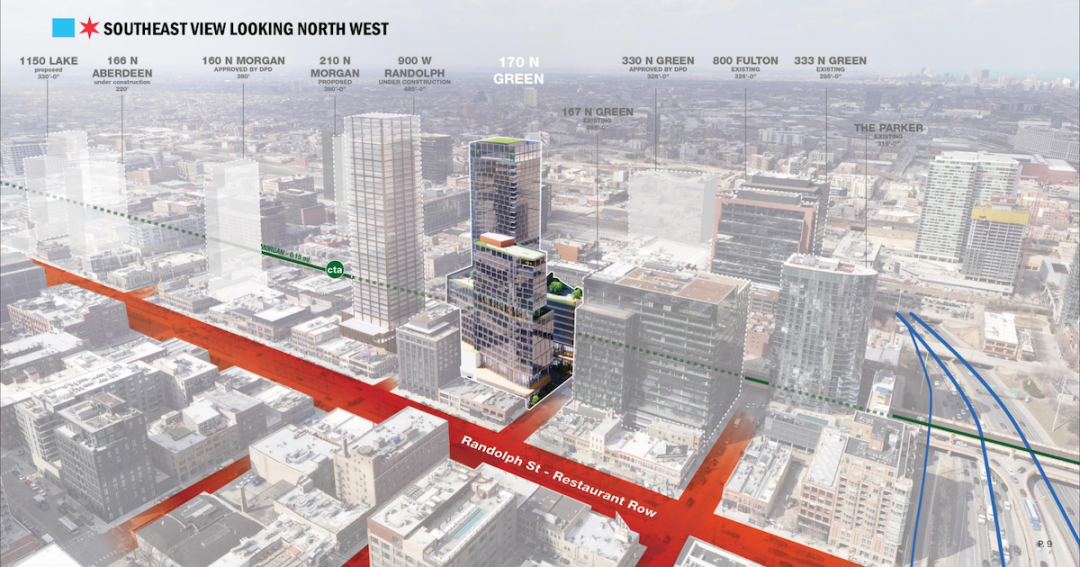 Fulton Market Hotel Tower, Edgewater Apartments are awaiting approval by the Planning Commission
Get more in-depth, daily coverage of Chicago politics at The Daily Line.
CITY HALL — A proposal for another new high-rise at Fulton Market, new apartment complexes in Edgewater and Logan Square, and a couple of new shipping warehouses proposed across the city are scheduled for approval by a key city commission on Thursday.
A joint proposal by Clayco subsidiary CRG and prolific Fulton Market developer Jeff Shapack to build a 40-story mixed-use tower at 170 N. Green St. in the 27th Precinct is the largest plan proposed by the Chicago Plan Commission during of their month is scheduled to meet Thursday at 10am.
Developers plan to amplify Fulton Market's construction boom by razing the vacant former Bridgford Foods plant and building in its place a 465-foot tower containing 275 apartments, 150 hotel keys and office space – all in a retail space of approximately 37,000 square meters the first two floors of the building. The building would sit between the existing Hoxton Hotel and the 495-foot residential tower under construction at 900 W. Randolph St.
After a series of community meetings and input from the Chicago Department of Planning and Development, the development team offered to "simplify" its front facade and remove a bridge that a said would have hung over a "Mews" public square overlooking Green Street The presentation of the planning department is to be given on Thursday.
The building will also include a 5,900-square-foot rooftop terrace and a 4,000-square-foot patio deck, the presentation reveals.
It will have 235 parking spaces, far more than the city's public transport zoning ordinance, and 97 bicycle parking spaces.
In accordance with the city's Affordability Requirements Ordinance, the developers will lease 55 units — or 20 percent of the total rent — at discounted rents. The affordable units include 14 studios, 23 one-bedrooms, and 18 two-bedrooms, all geared toward renters earning up to 60 percent of the area's median income — about $39,000 for a single person or $45,000 for a couple.
The overall project is expected to cost approximately $209 million to build, including an approximately $6.5 million density bonus payment to fund the city's Neighborhood Opportunity Fund and other programs.
'Encuentro Square' affordable housing
Developers Latin United Community Housing (LUCHA) and Evergreen Real Estate Group are proposing to build up to 187 new units on nearly four acres of land at the intersection of Hamlin Avenue and Cortland Street at 26 606 Bloomingdale Lane.
The Encuentro Square development is proposed in two phases, beginning with two new buildings at 3745 W. Cortland St. that will contain 100 affordable apartments. It replaces the Magid glove factory building, which has been vacant for more than a decade.
The proposed development funding mix includes $22.5 million in low-income housing tax credits, $9 million in tax increase funding, $1.6 million in donation tax credits, $415,000 in grants, $5.1 million in dollars in soft loans, a $7.1 million personal mortgage and debt financing,block clubreported.
The overall development is to include a "community center", "parks and recreation" and 137 parking spaces, as can be seen from the planning documents. The height of the three buildings will not exceed 85 feet.
Related: 'Encuentro Square' development, Fulton Market Tower under newly submitted zoning applications
Nine units, or 10 percent of the units in the first phase of development, will be accessible to people with disabilities, records show.
Edgewater Apartments
The Commission is expected to submit an application for a Lakeside Protection Ordinance Zafar Hussein Tempus Group Holding, LLC decided to demolish the site of the former Wing Hoe restaurant at 5356 N. Broadway and construct a five-story, 50-unit residential building in its place. It will have 25 parking spaces and 38 bicycle spaces.
Following feedback from neighbors and planning department officials, the developer has scaled back its planned balconies and made more room for planters and bus lanes, according to a planning department presentation.
The homes consist of 34 one-bedroom units and 16 two-bedroom units. It will meet the Affordable Requirements Ordinance by designating five units — 10 percent of the total — as affordable.
In addition, the planning commission is to take up the following further development proposals at its meeting on Thursday:
O2021-3101 – A proposal by industrial developer Logistics Property Company to build an approximately 600,000 square foot warehouse and distribution facility at 1215-65 W. Division St. in the 27th District.
O2019-8492 – A proposal by the Greater Chicago Food Depository to build a 36,700 square foot expansion of its existing 275,000 square foot food storage and packaging facility at 4100-4230 W. Ann Lurie Place in the 14th Precinct "to add a meal preparation facility and other ancillary purposes."
A proposal by Wm. Wrigley Jr. Company to modify the existing proposed development at 1132 W. Blackhawk St. in the 27th Precinct to allow for the construction of a single-story, 45,000 square foot "pilot" facility adjacent to an existing industrial facility.
O2022-636 — A proposal by Michael Drew and Daniel Lukas of JFA Real Estate, a strip of land at 9901 S. Cottage Grove Ave. from manufacturing to commercial to "unify zoning on an individually owned site."
O2022-909 – A technical change to the planned development #43 proposed by Ald. Leslie Hairston (5th) to buy three more properties on the corner of Drexel Avenue and 56th St.
Get more in-depth, daily coverage of Chicago politics at The Daily Line.