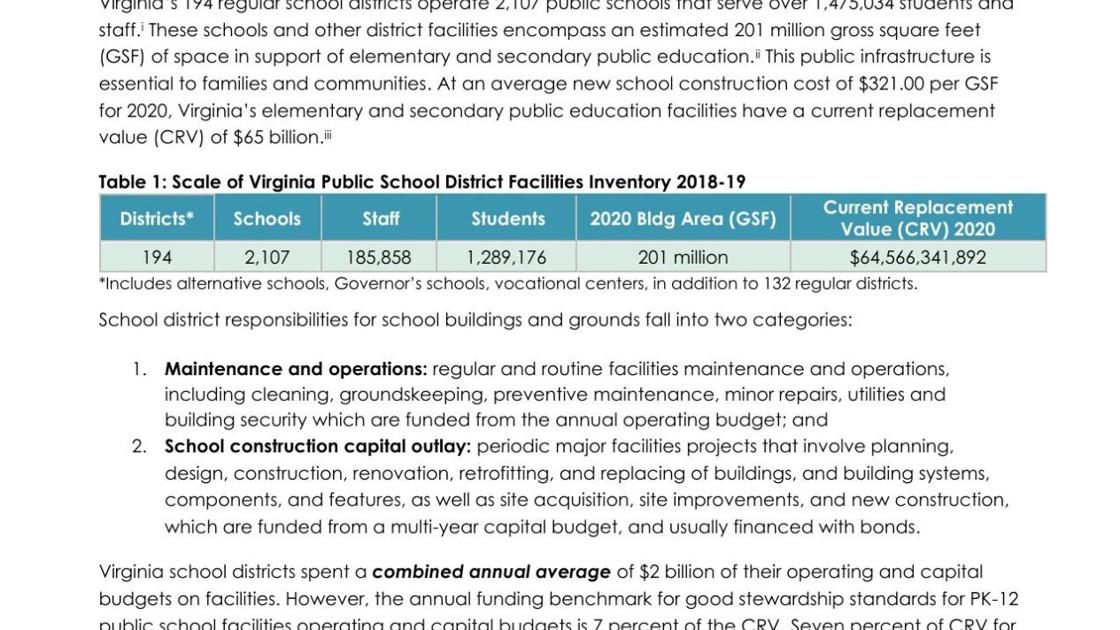 Opinion / Comment: Virginia has the ability to mend crumbling schools | Columnists
[ad_1]
Virginia has many safeguards in place to ensure that students in different subgroups have equal access to meals, special curricula, and governor's schools, and even to performance and growth as measured against state learning standards. For example, the Commonwealth has made modest strides to ensure that high-poverty students have more educational resources.
Unfortunately, the only protection that students have in terms of building quality, safety, health and accessibility are the guidelines for school facilities of the VDOE. These guidelines "recommend" certain standards when renovating old schools or building new schools. Just as the Virginia Constitution only requires that the General Assembly "seek" adequate education, these guidelines cannot guarantee that all students will have adequate schools and classrooms. In addition, a location must have the ability to build or renovate to even consider the "recommendations" in these guidelines.
Virginia school departments have an interesting dilemma about how to respond to school infrastructure problems. The school authorities are responsible for cleaning, maintaining, renovating and replacing school buildings. However, the school authorities have no control over the amount of money they receive. In addition, most finance school agencies are restricted by state and federal mandates.
One tool available to Virginia school departments to resolve school infrastructure concerns is the Literary Fund. The Literature Fund is defined in Article VIII, Section 8 of the Virginia Constitution as a standing and perpetual fund that can be used to provide low-interest loans to school departments, with the local composite index measuring whether a location is capable or not to contribute to the cost of basic education – as a condition of grant.
[ad_2]