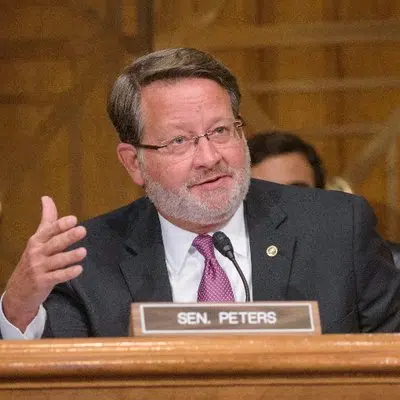 Peters' STORM Act Funding Signed Into Law; UP executives satisfied
A provision of $ 500 million secured by US Senator Gary Peters (D-MI), chairman of the Homeland Security and Governmental Affairs Committee, was signed as part of the bipartisan infrastructure bill to help communities cope with the effects of natural disasters.
Peters secured initial funding for the loan program he created to help states set up revolving loan funds for local governments to conduct risk mitigation projects that reduce the risk of natural disasters. These projects could include modernizations to address extreme flooding, coastal erosion and rising water levels that have endangered homes, small businesses, property and communities, and caused millions in damage.
"Communities across Michigan are struggling with damage from increasingly severe storms, flooding, and coastal erosion, and we know these problems are only getting worse with ongoing climate change." said Senator Peters. "This funding will boost my STORM Act loan program and give states and communities access to new opportunities to invest in major infrastructure updates from levees to storm drains that protect residents, homes and small businesses from these disasters."
Severe storms, extreme flooding, rising water levels, and high winds – along with other factors driven by climate change – all contribute to devastating natural disasters. Communities in Michigan and across the country face severe flooding, coastal erosion, and high water levels that have destroyed homes and beaches, and even forced residents to move. Southeast Michigan faced severe flooding this summer, which tragically resulted in two deaths, damage to small businesses and thousands of homes and devastated families. The financing that Peters provided for the loan program he set up STURM law enables local governments to access critical resources to mitigate the effects of natural disasters in a more cost-effective way. Studies have shown that spending on resilience and risk mitigation saved taxpayers an average of $ 6 for every $ 1 invested.
Unlike the existing Federal Emergency Management Agency (FEMA) grants, these low-interest loans would allow local governments to invest in resilience and containment projects that reduce the effects of extreme flooding, coastal erosion, and rising and high water levels, as well as other natural disasters. These loans would reach communities faster than traditional FEMA grants and give communities the capital they need to invest in more resilient infrastructure.
"The loan funds created by Senator Peters under the STORM Act will be instrumental in protecting the beautiful Marquette shores along Lake Superior and protecting our residents from terrible natural disasters." said Marquette Mayor Jenna Smith. "Our city is grateful to Senator Peters for his efforts to equip communities here on the Upper Peninsula and across Michigan with the resources to build our infrastructure that can withstand flooding and coastal erosion so we can protect families and businesses and save money over the long term." through these early investments. "
"As Houghton City and our residents continue to face severe flooding that damages homes and businesses, efforts like Senator Peters' to get us the resources we need to protect ourselves from natural disasters are more important than ever." said Houghton City Manager Eric Waara. "These new loan programs will be of great benefit to communities like ours that need help modernizing our infrastructure to make it more resilient. We are grateful to Senator Peters for his work and look forward to working with him to ensure that our community is better prepared in the event of a disaster. "
"Firstly, Senator Peters' approach to the Infrastructure Bill is highly valued as it is noteworthy that he has taken the initiative to engage and listen to Upper Peninsular stakeholders while the legislation is being discussed and before it comes into effect for an understanding to get what was important to us on site, such as our need for accessible and affordable broadband ", said Marty Fittante, CEO of InvestUP. "As the pandemic further underscores the critical importance of expanding accessible and affordable broadband capabilities, we are grateful for Senator Peters' continued leadership in making this broadband investment locally. Funding in the Infrastructure Act and its emphasis on rural communities is just the latest example of his commitment in this regard, just months after he led a bipartisan coalition to pass rip-and-replace legislation, which is crucial to the continuity of Education Access Network. "
"Gary Peters' STORM ACT will make a valuable contribution to cities like Traverse City to mitigate the harmful effects of climate change." said Traverse City Mayor Jim Carruthers. "This loan fund will help support projects to combat the flooding, coastal erosion and severe storm damage that many coastal communities are facing. Thank you Senator Peters for your guidance and support to communities like Traverse City. "