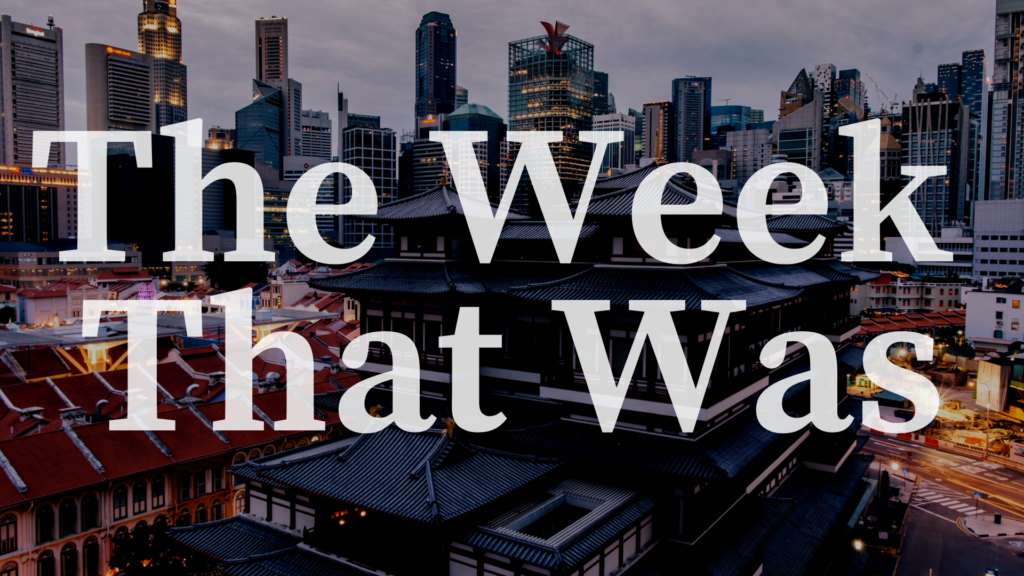 The week that was – 16.-21. August
Regulators in various markets in Southeast Asia took action to keep up with the rapid growth of the region's digital economy.
Indonesia Financial Services Authority (OJK) has passed two new regulations paving the way for tech companies and non-banks to run banks in the country. The new rules allow companies to run a digital bank by starting a new bank or taking over an existing lender.
The Philippine central bank plans to stop accepting digital banking license applications in September and limit the number of players to seven for the time being. The move will allow regulators to monitor the performance of the new players to challenge the country's traditional lenders. Filipino conglomerate JG Summit Holdings and its partner, South Africa Tyme, announced this week it has secured a digital banking license in the Southeast Asian nation.
the Singapore Stock Exchange (SGX) should consider lowering the minimum value for Special Purpose Acquisition Companies (SPACs) as the framework for local listing of such companies is finalized. Multiple sources close to the matter told DealStreetAsia that SGX is targeting a minimum value of around S $ 150 million ($ 110 million), up from $ 300 million ($ 220 million) first proposed in March .
Fundraising news
UOB Venture Management, the private equity arm of Singapore-based banking firm UOB, has secured the first deal for its newest vehicle, which will invest in companies in Southeast Asia and China. To date, the company has raised $ 35.5 million for the Asean China Investment Fund (US) V LP from at least four investors.
C Ventures, a venture capital firm founded by Hong Kong billionaire Adrian Cheng, has raised over $ 120 million for its latest fund to date. The aim is to raise $ 150-200 million for the C Ventures Fund III.
The VC firm has raised around $ 10 million from US investors, a regulatory filing showed.
German development finance institution DEG has assisted a Singapore-based VC firm Integra partner's second fund of $ 100 million as an anchor investor. Integra is an early-stage fintech and healthtech fund with a focus on Southeast Asia. The company is led by former Dymon Asia Ventures partners Jinesh Patel and Chris Kaptein.
VC company based in Singapore Jungle company has filed with the US Securities and Exchange Commission (SEC) to launch its fourth Southeast Asia fund. The filing did not specify the target corpus for Jungle Ventures IV, but several sources close to the matter previously told DealStreetAsia that the venture firm is targeting $ 400 million for the newest fund.
500 Southeast Asia (formerly 500 Durians), the Southeast Asia-focused fund of global venture capital firm 500 Startups, is promoting its second special purpose vehicle (SPV), which is expected to invest in a portfolio company. Its predecessor fund – 500 Durians Growth Fund I – had a target size of approximately $ 21.18 million in 2018.
The company has also raised nearly $ 18 million for its newest Southeast Asian venture fund to date, according to a filing with the US Securities and Exchange Commission. The target amount for 500 Southeast Asia III, which has so far received capital commitments from 18 investors, was not specified in the filing.
Indian financial services company Avendus completed the first closing for its Future Leaders Fund II with total commitments of approximately $ 78 million (Rs.584 billion). The Fund aims to raise Rs 750 crore with a greenshoe option of an additional Rs 500 crore.
Enlight Growth Partner (EGP), a China-focused early growth equity investor, is raising $ 225 million for its second venture capital fund, according to its SEC filing.
Singapore SC Capital Partners plans to raise around $ 550 million for a new fund targeting Japanese hotels. It joins wealth managers like Blackstone, who are betting that tourism in Japan will come back strongly once the coronavirus pandemic has subsided.
Offers corner
Indonesian platform for digital consumer finance Akulaku is in talks to raise a pre-IPO financing round this year ahead of a listing in 2022. The company has hired Morgan Stanley as its financial advisor.
Swiss private equity company Partner group announced the sale of the Singapore-based content and data solutions provider Straive, formerly known as SPi Global, too Baring Private Equity Asia (BPEA). Financial details were not disclosed, but a previous Bloomberg report put the transaction value at around $ 1 billion.
Vietnam based private equity firm Mekong capital invested $ 10.2 million in local proptech startup Return. DealStreetAsia reported in February that Rever was in the process of raising $ 8-10 million in a new round of funding.
AirAsialogistics arm Teleport has taken over the food delivery app from Penang Deliver for $ 9.8 million as the low-cost airline plans to expand its grocery delivery business. The deal, which values ​​Teleport at $ 300 million, is set to close in late September this year.
FinAccel, the parent company of the Indonesian digital lending platform Kredivo, has made its way into Vietnam by taking a majority stake in a local joint venture. Your partner is based in Ho Chi Minh City Phoenix Holdings, a family office and an operational investment company.
Singapore sovereign wealth fund GIC acquired a 5% stake in a US-based event management and ticketing website Eventbrite, showed a filing with the US SEC.
IPO updates
Indonesia Go to, which will launch a pre-IPO financing round of up to 2 billion over the next few weeks. The Indonesian Financial Services Authority (OJK) is currently reviewing new guidelines for listing technology companies to offer shares with two classes that give different voting rights.
Filipino supermarket operator AllDay Marts has filed for an initial public offering (IPO) of up to 6 billion pesos ($ 119 million). It could be the sixth company to go public in the Philippines this year despite the country battling one of the worst COVID-19 outbreaks in Asia.
Real estate in focus
based in Hong Kong ESR caiman has teamed up with the Dutch pension fund manager APG asset management and RECO investor, an indirectly held subsidiary of Singapore GICto launch a new logistics development platform in China. The platform will have an initial equity commitment of $ 1 billion and will invest in warehouse or mixed-use warehouse and industrial real estate in China.
The real estate arm of an Asia-focused private equity company PAG founded a digital infrastructure company that will focus on acquiring and operating assets such as data centers. PAG Real Estate said the company will target colocation, cloud, hyperscale and enterprise data centers, as well as network and fiber facilities in the Asia-Pacific region.
Filipino publicly traded fast food giant Jollibee foods has approved an investment of 3.9 billion pesos ($ 77 million) to partner with Realty Major to build the country's first and largest industrial real estate investment trust (REIT) Double kite.
Make waves
Singapore-based e-commerce and gaming giant Meer Ltd reported a net loss of $ 434 million for the second quarter of this year, up 10.2% from $ 394 million a year earlier. Still, analysts and retail investors remain optimistic about the outlook – we explain why in this story.
India's deal bonanza
Based on several large deals, Indian startups raised a record $ 10.7 billion from venture capital investors in July, proprietary data from DealStreetAsia shows. The bonanza marks the highest capital raised by Indian startups in the past nineteen months.