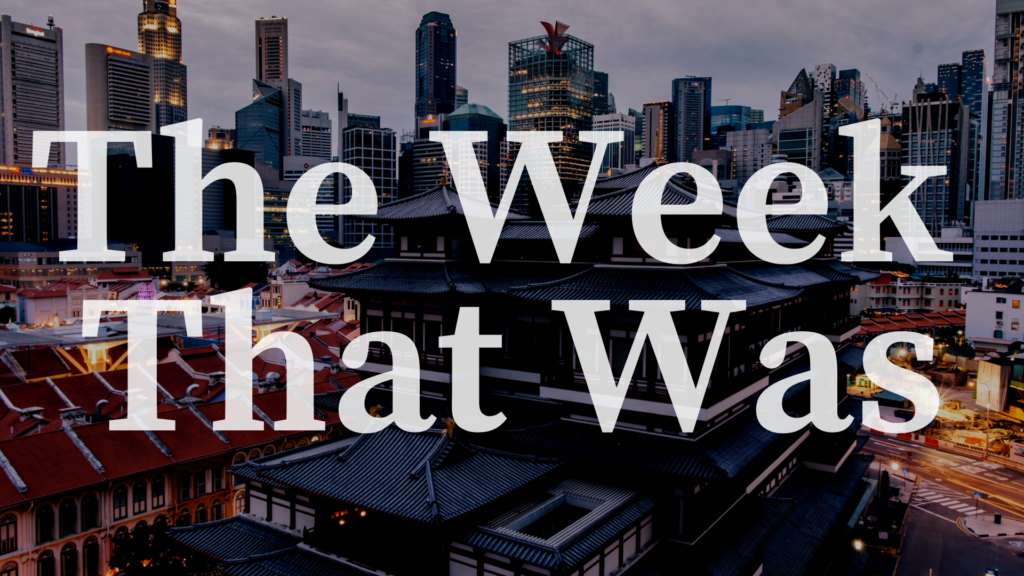 The week that was – February 21-26
We're back with our weekly roundup of the top headlines, fundraising updates and exclusive interviews.
deal news
One of the top deals in Southeast Asia this week is a Singapore-based cryptocurrency trading platform amber group raised $200 million in a Series B expansion led by Temasek, which values ​​the company at $3 billion. This follows the company's $100 million Series B round last year.
Temasek has been an active investor in the crypto space, having previously supported crypto exchange FTX. It also sold its stake in Coinbase earlier this month. Meanwhile, Temasek's venture arm Vertex Ventures has invested in Binance and Coinomo.
Last August, another Singapore-based crypto asset manager, Matrixport, was valued at over $1 billion after raising $129 million in a Series C round.
Private equity firm based in Singapore confirm capital The $75 million majority corpus is believed to have been pumped into mobility startups beam since the latter grossed a total of $93 million in its Series B round. Beam operates in 35 cities in Malaysia, Thailand, South Korea, Australia and New Zealand.
Meanwhile, Malaysia-central private equity firm Navis capital achieved an exit after reaching an agreement to sell its entire stake in the Singapore-based battery lifecycle services company TES Envirocorp Pte Ltd to South Korean environmental service provider SK ecoplant co ltd. The transaction places TES' enterprise value at $1 billion. Navis took control of TES in May 2013.
From Indonesia we reported on the online credit platform support associationsalso known as Modalku, is said to have invested with a minority stake PT Bank Index Selindo. Online marketplace for cars Karro is also said to have invested in the lender.
In the IPO news from India, we had this news from Nikkei Asia about a food delivery service Slippery Begin preparations to raise at least $800 million in a listing early next year. It hopes to raise the funds to grow market share in the tough competition with Zomato in grocery delivery.
On the donation trail
There has been a flurry of updates from PE VC firms and their LPs on fundraising milestones, suggesting that venture capital investors remain optimistic about investment opportunities in Asia.
From Australia Pacific Equity Partners sees itself as launching its second Secured Assets Fund and a continuation vehicle to hold some assets from its first Secured Assets Fund. PEP foresees a A$1 billion (US$719.5 million) corpus for the second edition of its Secured Assets strategy.
Early stage investor Capital of the Indus Valley is seeking up to $75 million for a new venture fund that is expected to continue to focus on internet startups in Pakistan. The Airlift backer closed his debut fund with $17.5 million.
Based in New York Insight Partnerswhich has backed Southeast Asian startups like Spenmo & Thunes, has raised $20 billion for its 12th flagship fund to boost investment in technology and software companies.
Air conditioning technology venture company based out of New Zealand Era VCan investor in Singapore-based cell-based protein company Shiok Meats, has secured an initial $30 million deal for its new fund.
An alternative protein venture capital firm targeting Asia-Pacific based companies has been formed with a $15 million fund. Better Bite Ventures aims to invest at the pre-seed and seed levels in light of the growing demand for meat and dairy substitutes.
Greenwillow Capital intends to close its recently launched $100 million technology fund by the third quarter of this year to invest in early-stage technology startups in Southeast Asia. The vehicle is backed by China's Oriza Holdings, which has 100 billion yuan in AUM.
Logistics real estate investor GLP announced that it had raised a record $13.6 billion in equity in 2021.
US and Taiwanese pension funds have approved commitments for several vehicles.
Ohio's School Employees Retirement System (SERS) has pledged $50 million Carlyle's newest Asia-focused fund.
Meanwhile, the Montana Board of Investments has approved a $50 million commitment to the BRV Lotus Fund III, the third Asia-focused vehicle by a global venture capital firm BlueRun Ventures.
Taiwan life insurancePart of Taiwanese finance company CTBC Financial Holdings, has committed to invest a total of US$35 million in funds managed by Lexington Capital Partners and Lead Edge Capital.
Taiwan's Cathay life insurance has committed €50 million ($56.6 million) to the latest buyout fund from a global private equity firm Permira.
This week also saw a number of fundraising updates from China-focused funds.
CLSA Capital Partners has launched a flagship USD private equity fund focused on the Chinese market. It is aimed at global investors looking to invest in private companies in China's healthcare, TMT, smart manufacturing and renewable energy sectors.
Huaxing growth capitalthe growth-stage investment arm of China Renaissance, has reportedly secured the second close for its fourth USD fund of $800 million, on track to close its target corpus of approximately $1.2 billion reach.
of China nearest capitalwhich focuses on early-stage technology investments, has completed the first closing for its second RMB-denominated fund with a total funding target of 600 million yuan (US$94.6 million).
Chinese manufacturer of power equipment TBEA has co-launched a fund to invest 1.1 billion yuan (US$173.5 million) in green and clean energy companies.
V capitalaffiliated with listed Chinese textile materials maker Jiangsu Huaxicun, has launched its first qualifying overseas Limited Partner (QFLP) fund with a goal of raising 3 billion yuan (US$473.6 million).
On to the rest of Asia, Japanese investment firm Fiducia has achieved the first close for its debut fund of 3.26 billion yen (US$28.3 million) to invest in deep tech and healthcare solutions.
India's early stage investor IvyCap Ventures has announced the first closing of its third $214 million fund, given its strong exposure to the consumer tech, deep tech, healthtech, fintech, SaaS and edtech sectors.
Vietnam's early stage VC ThinkZone Ventures has raised $60 million for its second fund, making it the largest domestic VC vehicle backed mostly by local conglomerates.
Interviews and Analysis
We've caught up Alpha JWC Ventures Co-founder Jeffrey Joe, who says the tech scene in Southeast Asia continues to mature, with many former Unicorn executives coming out to start their own companies. The company has already deployed 2.5 times more capital in 2021 compared to 2020.
The region's development bodes well for the VC, he said, as it raised $433 million for its third fund last November, about four times its previous fund.
In Vietnam we interviewed Eddie Thai who started together with Binh Tran Rise of Vietnam Ventures last year. Speaking about LP's changing perception of Vietnam, Thai said, "Now more LP's see the potential. They have started to believe that it is better to come to Vietnam now than to be late."
We got the LP perspective from Janette Hall, director of ADB's Department of Investment Funds and Private Sector Special Initiatives. As the private equity space in Asia evolves, ADB wants to support more established fund managers and add venture capital funds to its portfolio, Hall said.
ADB's current portfolio consists of 36 funds with approximately $1.1 billion in committed capital. In South and Southeast Asia, it has supported managers such as Northstar Group, Creador, Mekong Capital and True North.