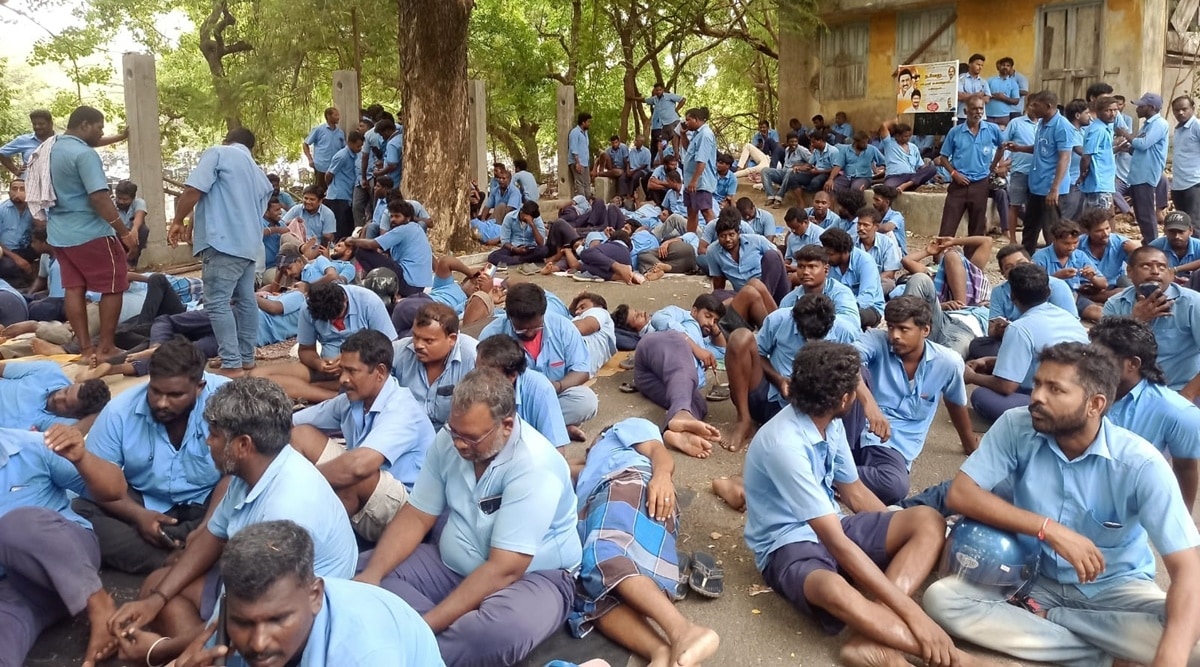 'Will sooner die than work on contract': sanitation workers continue to stir in Chennai
It's the fifth straight day and over 500 sanitation workers are sitting across from the Chennai Metropolitan Water Supply and Sewerage Board (CMWSSB) office building in MRC Nagar, demanding regulation of their jobs.
Protesters have been sleeping on the side of the road and raising slogans against the board's decision to give them contract jobs. The company reportedly employs 1,800 temporary workers.
buy now | Our best subscription now has a special price
The workers said they had neither slept nor gone home to visit their families for the past five days. They added that they ate once or twice and tried to stay awake by continuing to sip, as they were always afraid the cops might force them out.
The demonstrators said they organized this protest without the support of any union or political party. Over the public address system, one of the organizers was seen regularly instructing his men to keep their lines and not engage in activities that might disrupt the gathering's sole motive.
Sridhar, who has worked as a jet-rod driver for 12 years, said they are fed up with officials' false promises and want a permanent solution. "I've seen at least six MDs (managing directors) here. They would promise to give us permanent employment within three months and ask us to continue working as temporary workers. After the deadline they would be transferred and a new MD would come. We would put our demands before him again. It's been happening for so many years now, he said.
He added: "While we weren't hired on a permanent basis, at least we were satisfied that the board is the one who pays us our salaries. However, a week ago we were told that we would be working for a contractor. Our salaries have been cut. For me, 25,000 rupees a month has now become 20,000 rupees. They say they take the amount for our PF and ESI but we were not asked to submit any documents for that. How do we know the amount is going to these accounts?" he asked.
The workers said they have been working tirelessly to help people in the city even during the pandemic. "They are telling us to get back to work. They say we'll be fired if we don't work. There are 1,800 workers but we are not all here because the rest have been threatened by the officers. Because of the situation in their families, they are unable to take action against these officials," added a worker.
Vinoth Kumar, who has been working for 15 years, said that they have not received a salary for a month and do not know who to contact on this matter. "Our protest will continue until we are made permanent workers. The Board informed us that we had switched to a contract system due to a lack of funds. However, if this is the case, how do they hire private workers? They cannot pay us Rs 850 a day but they can afford Rs 1,500 for a private worker," he added.
The protesters claimed police personnel told them to disperse on the first day of the protest. "We are in no mood to leave this site if our demands are not met. We would die but not work as temps again," said one protester.